Hello Brothers and Sisters,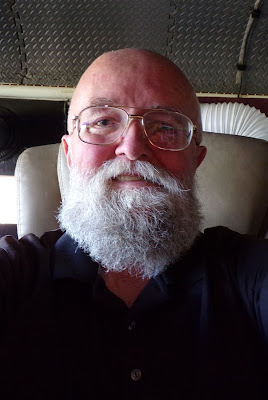 I've got my new teeth. I apologize if my smile seems odd. The stroke I had five years ago makes it difficult to smile. I can tell you that my teeth are fine. They really are a WHOLE lot better than they were before. If I took this picture before my appointment you would see nothing but broken teeth, holes, and a broken smile. The dentist had to do quite a bit of work to get my mouth ready to receive the dentures. I had a blog written about my hereditary dental condition about a month ago:
https://parables.blog/2021/05/dentinogenesis-imperfecta.html
During my appointment on May 28th the dentist had to pull seven teeth, several of which were broken. I have six of my original teeth left in my mouth. This is the effect of Dentinogenesis Imperfecta. The end result is I can now smile and not scare people away from me. I can also chew my food, though right now my mouth is sore from having seven teeth pulled. It will take about two weeks before my mouth has healed enough to put pressure on the teeth. Already, though, I am able to appreciate food.
I am really happy with my new teeth. I can now eat a significant number of foods that I haven't been able to chew for months. I am really pleased that a sister in Christ was led of the Lord to question George about my needs, and to then send a check for three thousand dollars so that I could get this done. I also thank those who gave after I announced my dental appointment, and my sixtieth birthday. I was able to pay for everything for my dentures and teeth in advance, as well as pay all my other bills which came due at this time. As Paul said,
Ephesians 3:14-21
For this reason I bow my knees before the Father, from whom every family in heaven and on earth derives its name, that He would grant you, according to the riches of His glory, to be strengthened with power through His Spirit in the inner man, so that Christ may dwell in your hearts through faith; and that you, being rooted and grounded in love, may be able to comprehend with all the saints what is the breadth and length and height and depth, and to know the love of Christ which surpasses knowledge, that you may be filled up to all the fullness of God. Now to Him who is able to do far more abundantly beyond all that we ask or think, according to the power that works within us, to Him be the glory in the church and in Christ Yahshua to all generations forever and ever. Amen.
I truly do feel this way. In 1999 the Lord told me to no longer have anything to do with debt. Since that time He has been faithful to enable me to live free from all debt. I have not had a single cent of debt. I can tell you this, that even the waiting on the Father to meet my need for teeth does not count as anything when I am obeying Him. He will meet every need, even as He has for this occasion.
I want to tell you another blessing the Father has granted to me. My daughter, Kristin, is coming home for June 19th to July 1st. I will take plenty of photos to share with you all. Her being able to travel from Poland to here is a blessing of the Lord. Additionally, I will now be able to go with her anywhere she desires, and enjoy the good food Yahweh sets before me.
Amen!
Heart4God Website: http://www.heart4god.ws
Parables Blog: www.parablesblog.blogspot.com
Mailing Address:
Joseph Herrin
P.O. Box 804
Montezuma, GA 31063